What is Apple Cider Vinegar?
In the last year or so the wonders of ACV – that's apple cider vinegar to those of us who aren't in the superfood biz – have been espoused everywhere from Reader's Digest and 'Dr. Oz' TV segments to health and diet articles on social media. Even friends and associates have been sharing their tales of knocking back acidy shots of the stuff in the name of weight loss, appetite suppression and controlling sugar cravings.
Unlike white, red wine or even black vinegar, apple cider vinegar is made out of fermented apples. Apples are chopped up, covered with water and left until
the natural sugar ferments and forms ethanol. The bacteria then converts what is essentially alcohol into acetic acid and there we have what is known as apple cider vinegar.
Its distinctive cloudy-brown colour is due to it being unstrained and containing strands of protein material often nicknamed "the mother", which is a mix of proteins and bacteria that look a bit like cobwebs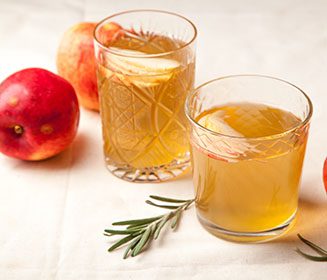 About Our Apple Cider Vinegar Drink
Energise & balance your body with this delicious organic detox.
Free from…
Fat, Preservatives, Lactose, Gluten, GMO
Low in..
Calories, G.I. & Carbs
Living Superfoods
& Active Enzymes
Vegan Friendly
Unpasteurised
Ingredients List
& Nutritional Panel
INGREDIENTS: 20mls of pure Apple Cider Vinegar, naturally fermented organic glucose, organic green tea [real leaf], natural essences, purified water and citric acid.
Order your
box of ACV
goodness now!
Order your box of 'buch
goodness now!